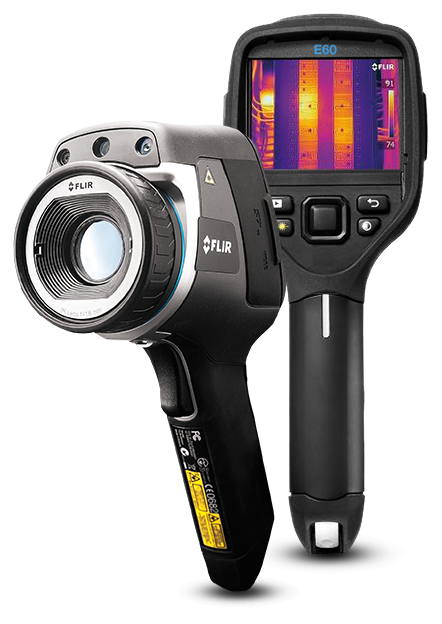 生産中止
FLIRサポートセンター
FLIR E60
サポートについて
お願い チケットを送る
その他サービスについて

リソース:
FLIR Exx bx-Series bx User Manual
製品仕様
概要
内蔵デジタルカメラ

3.1 Mpixels (2048 × 1536 pixels), and one LED light
検知器タイプ

Focal plane array (FPA), uncooled microbolometer
温度差

Delta temperature between measurement functions or reference temperature
焦点距離

18 mm (0.7 in.)
赤外線解像度

320 × 240 pixels
レーザー

Activated by dedicated button
レーザー照準

Position is automatic displayed on the IR image
レーザー分類

Class 2/Semiconductor AlGalnP Diode Laser: 1mW/635nm (red)
材質

•Polycarbonate + acrylonitrile butadiene styrene (PC-ABS) •Thixomold magnesium •Thermoplastic elastomer (TPE)
梱包サイズ

500 x 190 x 370 mm (19.7 x 7.5 x 14.6 in.)
レポート作成

FLIR Tools software specifically designed to provide an easy way to create inspection reports. It is available on the major platforms – Android, Windows, MacOS, and iOS.
セットアップコマンド

Local adaptation of units, language, date and time formats
スペクトル範囲

7.5 to 13µm
三脚取付マウント

UNC ¼"-20 (adapter needed)
エリアボックス

3 Area Boxes (full image with min/max/avg)
寸法/重量

9.7x3.8x7.2" (246x97x184mm)/<1.82lbs (825g), including battery
テキスト

Text from predefined list or soft keyboard on touch screen
Other
Built_in Digital Lens Data

FOV 53° × 41°
Digital Camera Aspect Ratio

4:3
Panning

Panning over zoomed-in images
イメージングとレンズ
カメラサイズ[L×W×H]

246 × 97 × 184 mm (9.7 × 3.8 × 7.2 in.)
カメラ重量、バッテリー含む

0.869 kg (1.91 lb.)
カラーパレット

Arctic, Gray, Iron, Lava, Rainbow and Rainbow HC
デジタルカメラ焦点

Fixed focus
デジタルズーム

2× and 4×
ディスプレイ

Touch screen, 3.5 in. LCD, 320 × 240 pixels
F値

1.3
視野角[FOV]

25° × 19°
焦点

Manual
フレームレート

60Hz
画像調整

Auto or manual
画像モード

IR image, visual image, MSX, picture in picture, thumbnail gallery
最小焦点距離

0.4 m (1.31 ft.)
赤外線動画保存(温度情報なし)

Uncompressed colorized video using USB
ピクチャー・イン・ピクチャー

Scalable IR area on visual image
赤外線動画保存(温度情報付き)

Full dynamic to PC using USB
空間分解能[IFOV]

1.36 mrad
ビデオ規格

CVBS (ITU-R-BT.470 PAL/SMPTE 170M NTSC)
視野角[FOV]、焦点

Manual (Minimum focus distance 1.3ft/0.4m)
環境
落下

2 m (6.6 ft.)
電磁両立性

•EN 61000-6-2 (Immunity) •EN 61000-6-3 (Emission) •FCC 47 CFR Part 15 B (Emission)
放射率補正

Variable from 0.01 to 1.0 or selected from materials list
保護

IP 54 (IEC 60529)
湿度[動作時、保存時]

IEC 60068-2-30/24 h 95% relative humidity +25°C to +40°C (+77°F to +104°F) / 2 cycles
磁界

EN 61 000-4-8, Test level 5 for continuous field (severe industrial environment)
使用温度範囲

–15°C to +50°C (+5°F to +122°F)
安全性

EN/UL/CSA/PSE 60950-1
衝撃

25 g (IEC 60068-2-27)
保存温度範囲

–40°C to +70°C (–40°F to +158°F)
振動

2 g (IEC 60068-2-6)
接続と通信
AC運転

AC adapter, 90–260 VAC input, 12 V output to camera
SDカード

One card slot for removable SD memory cards
USB

•USB-A: Connect external USB device •USB Mini-B: Data transfer to and from PC / uncompressed colorized video
USB_コネクタータイプ

•USB-A connector •USB Mini-B connector
USB_規格

USB Mini-B: 2.0
ビデオ出力

Composite
ビデオコネクタータイプ

4-pole 3.5 mm jack
測定解析
精度

±2°C (±3.6°F) or ±2% of reading, for ambient temperature 10°C to 35°C (+50°F to 95°F)
計測値補正

Reflected temperature, optics transmission and atmospheric transmission
基準温度

Manually set or captured from any measurement function
スポットメーター

3
温度範囲

• –20°C to +120°C (–4°F to +248°F) • 0°C to +650°C (+32°F to +1202°F)
温度分解能_NETD

< 0.05°C @ +30°C (+86°F) / 50 mK
計測モード

Auto hot/cold spot, Isotherm (above/below/interval)
電源
バッテリー容量

4.4 Ah, at +20°C to +25°C (+68°F to +77°F)
バッテリー稼働時間

Approx. 4 hours at +25°C (+77°F) ambient temperature and typical use
バッテリータイプ

Rechargeable Li ion battery
バッテリー電圧

3.7 V
充電装置

In camera (AC adapter or 12 V from a vehicle) or 2-bay charger
充電温度

0°C to +45°C (+32°F to +113°F)
充電時間

4 h to 90% capacity, charging status indicated by LED's
電源管理

Automatic shutdown and sleep mode (user selectable)
スリープモードからの起動時間

Instant on
保存メディア
画像保存

Standard JPEG, including measurement data, on memory card
画像保存モード

Simultaneous storage of images in IR, visual and MSX